The Integral Body Balance Workshop has been cancelled.
Integral Body Balance Workshop: Concepts of Fasciatherapy DBM and Craniosacral Therapy to enrich the Therapist's Hand Three-Days with Marcello Windolph and Debra McLaughlin
Audience: Bodyworkers, Massage Therapists, Craniosacral Therapists, Fascial Therapists, Chiropractors, Physical Therapists, Occupational Therapists, Osteopathic Physicians
Location: Jack London Square, Oakland, California. The venue is walking distance from BART and Amtrak and inexpensive parking.
Dates: August 4 - 6, 2017
Time: 10:00 am – 5:30 pm daily
Instructors: Marcello Windolph, Debra McLaughlin
Sponsoring Organization: Northern Lights Wellness Professional Education LLC
Organizer/Registration: Zoey Anderson
Description
Integral Body Balance Workshop: Concepts of Fasciatherapy DBM and Craniosacral Therapy

Structural balance allows the human body to function optimally. A developed perception and full body awareness is what enables a therapist to develop quality of presence in her/his practice.
Please join us for three-days of learning and exploration of gentle, hands-on techniques for working with the body (the practitioner's own body and that of the client) with Deb McLaughlin and Marcello Windolph.
This workshop is designed to enhance your assessment and skills in Craniosacral Therapy, Myofascial Release Techniques, and introduce you to the beauty of Fasciatherapy DBM. Structural analysis basics will lead into the exploration of several structures of the person and how their dysfunction may affect comfort and function. Participants will develop their ability to tune into the inherent wisdom of the body and learn how to gently initiate a release to allow the client's body to guide the process to better balance.
We will: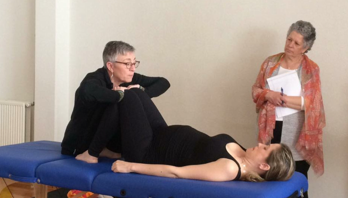 Learn an assessment protocol for identifying and monitoring change
Introduce gentle hands-on techniques appropriate for use with all ages of clients
Expand perception abilities
Explore how to approach the fascia as a global sensory organ and learn through experience how we can guide/support our client towards balance in the fascia.
Deb and Marcello have put their approaches, minds and hearts together to create an integral work of skill and love, a perception enhancement approach that draws upon sensory awareness of our matter to transform our relationships to what we are, as much as what we touch. In this seminar we are transported by the notion that the body is much more than just the structural function that carries our heads, that we are much more than the sum of our parts (joints and organs), but rather that consciousness (and perception) is not confined to the brain but penetrates deeply into the matter of our organic body on a cellular level.
Through our collaboration and the work we have created together we wish to facilitate a process where individuals move into deeper, more intimate relation with their bodies and hence themselves and others. The practitioner's empathetic/respectful hands guide individuals through the perceptual experience of "sensing" themselves.
Presenter Bio
Marcello Windolph is a certified Perceptive Psychopedagogue and Fasciatherapist based in Amsterdam, the Netherlands. He was a professional musician (MA Double Bass) and has indulged in various forms of bodywork for the past 20 years.
Having trained first in traditional arts of healing and 'developing perception' in China as a student of the legendary 19th generation Taoist lineage holder and traditional medicine specialist Wang Liping, Marcello's passion gradually turned into his profession.
In 2010 he based his approach in a western scientific method in Europe and became a student of
Prof. Dr. Danis Bois (founder of Fasciatherapy DBM and Perceptive Education) at the University in Paris.
Marcello has spent the last years focused only on the profession related to bodywork and has gained considerable experience with a wide range of clients. He is equally at home in personal manual therapy sessions as he is teaching and offering seminars in touch and perception for specific fields and professions. In his seminars he has worked with midwives and doulas, dancers, musicians, martial artists, physical performers and has collaborated with physiotherapists in accompanying athletes.
Marcello is currently teaching the 2016-2018 university course of Perceptive Education (Pedagogie Perceptieve) in Paris at the "Centre de Formation Professionnelle en Pedagogie Perceptieve" as the assistant to Dr. Helene Bourhis and Prof. Dr. Danis Bois.
In addition to his activities in and around Amsterdam he has held seminars in Spain, Norway, Greece, the Netherlands and Germany. There are additional seminars planned in the Netherlands, Germany, the United States and Norway for 2017. He is a Founding Educator for the Spinning Babies Professional Bodywork Education and presented several educational sessions at the Spinning Babies World Confluence in 2016.
Presenter Bio
Debra E. McLaughlin is a Craniosacral Therapist, Certified Professional Midwife, Business Owner, Doula and Educator providing support for mothers and babies during pregnancy, childbirth and beyond. Debra works with people of all ages to help them improve their physical and emotional health and wellness. Specializing in gentle hands-on therapy to restore balance to the body, her techniques have helped thousands of families experience more comfortable pregnancies, easier births and happier babies.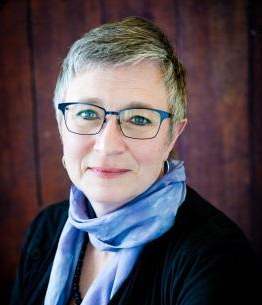 A dynamic presenter, Debra has developed and taught workshops and classes for midwives, physicians, chiropractors, nurses, physical therapists, professional bodyworkers, as well as students, doulas, and parents. Well-known for her ability to share information in ways that are easy for various audiences to understand and grasp, she has developed a reputation among health providers as a gifted educator. Her passion for helping audiences understand structural issues and their impact on the birthing process has led her to develop a wide range of educational programs for birth professionals and families.
Debra's support of pregnant and birthing mothers and their children in wellness and birth spans more than two decades. Her passion inspired a varied career developing national and international programs within the SIDS and birth communities. Deb served as teaching assistant to Carol Phillips, DC. Dynamic Body Balancing series for over five years. Deb has worked at Health Foundations birth center in St. Paul, all the while caring for her Northern Lights Wellness clients 150 miles away in Duluth, Minnesota, USA. Deb makes it all serene!
Since 2002, Ms. McLaughlin runs Northern Lights Wellness clinic which serves as a teaching clinic providing apprenticeship opportunities for craniosacral therapists. In addition to craniosacral therapy and myofascial release, Ms McLaughlin uses Dynamic Body Balancing, Reconnective Therapy, and Quantum Reflex Analysis, all gentle techniques to allow the clients' body to better balance. Deb McLaughlin is a Certified Professional Midwife (CPM) and an active craniosacral therapist in Duluth Minnesota's vital birthing community. She is a Founding Educator and Principal Consultant for the Spinning Babies Professional Bodywork Education and presented several educational sessions at the Spinning Babies World Confluence in 2016.
---

Come join Spinning Babies trainer, Lorenza Holt for a day of fetal positioning, pelvic anatomy and hands on experience. Learn about the three principles of Spinning Babies and how to apply them in your practice. Midwives, doulas, family doctors, OBs, nurses, prenatal yoga teachers, body workers of all sorts and anyone who works with pregnant people welcome. Spinning Babies workshops often sell out, so register soon.
Location: Community Well, 78 Ocean Ave, San Francisco, California 94112
Date: Saturday, March 25, 2017 from 9:00-6:00. Registration and continental breakfast begin at 8:30.
Cost: $175 early bird, $200 regular, $225 at the door, space permitting.
Registration Closed, Click here for info on future workshops and mailing list options.
Spinning Babies Workshop with Lorenza Holt, MPH, BDT (DONA), BCCE, SpB Trainer
This workshop is for midwives, childbirth educators, doulas, nurses, nurse practitioners, obstetricians, family medicine doctors, prenatal yoga instructors, chiropractors, acupuncturists, massage therapists, myo-fascial release practitioners, perinatal case managers, community health workers and others who work with birthing women.
The Three Principles of Spinning Babies are:
Balance, Gravity and Movement
Learn how to encourage and support pregnant women having more comfortable pregnancies and laboring mothers having easier labors by using the Spinning Babies principles and techniques.
Spinning Babies promotes better fetal positioning during pregnancy and labor by using techniques that help soften and balance the pelvic ligaments and muscles that support the pregnant uterus and pelvic floor. We relate pelvic alignment and mobility to an easier and shorter birth.

Spinning Babies gives your work greater success by teaching you specific techniques. You will learn to know when to do what- and why - to help baby engage, descend and rotate through the pelvis and pelvic floor. You will practice techniques for when labor stalls due to lack of engagement, a cervical lip or transverse arrest.
Spinning Babies will teach you about:
The anatomy and physiology of the pregnant uterus and the soft tissues that support the pelvic structures
Belly Mapping - a fun and effective way that encourages mothers to connect with how their babies are positionedinside them during the last weeks of pregnancy
The effects of an occiput posterior labor
Assessing what a stalled labor pattern is telling us
What techniques we can apply to ease labor progress through the three levels of the pelvis
How a doula, within her scope of practice, can use the Spinning Babies principles
Spinning Babies will change the way you think about birth interventions.
Lorenza Holt, Spinning Babies Trainer, and approved birth doula trainer with DONA International comes to this workshop with more than 20 years of experience as a childbirth educator, birth doula, and trainer in a variety of women's health topics. She is a native of Guadalajara, Mexico who lives in Boston, Massachusetts.
This workshop will provide you with 7 hours of DONA International approved continuing education credits.
IMPORTANT: Your registration is not guaranteed until payment is received and confirmed by email by registrar. Maximum group size: 30 participants.
Full refund if you miss because you are attending a birth and contact the organizer, Zoey, by 7:00am on the day of the event.